DJ DIphoeniX's top 20 Jamz - EVERY FRIDAY!!!..[the hottest songs on urban & pop radio] + updates on other Charts {March 6 - 12, 2009}
[polldaddy poll=1114359]

WATCH IT HERE:
http://web.splashcast.net/full_screen/?channel_code=&show_code=HZGP3565WF

OR

http://web.splashcast.net/Player/player_shell.swf?player_code=&channel_code=&show_code=HZGP3565WF&show_prev_code=&ip=72.27.49.135&host_url_id=-1&prev=&start_option=1&env=&rand=349&track_time=false


[FULLSCREEN mode]
http://web.splashcast.net/fs/?embed_url=/so/2/c/HPFA3505KC/s/HZGP3565WF/sc/1016508/fs/

EMBEDDED CODE:



March 6 - 12, 2009

CLOSE CALLS:
30. if this isn't love [jennifer hudson] (-)
29. halo [beyonce] (-)
28. just like me [jamie foxx/t.i.] (23) {Pk:9}
27. my life would suck without you [kelly clarkson] (27)
26. beep [bobby valentino/yung joc] (26)
-----------------------------
25. jai ho! (you are my destiny) [a r rahman/the pussycat dolls (nicole scherzinger)] (-)
24. i love college [asher roth] (-)
23. crack a bottle [eminem/dr. dre/50 cent] (22)
22. you complete me [keyshia cole] (25)
21. lions, tigers and bears [jazmine sullivan] (20)

20. prom queen [lil wayne] (19)
19. thinking of you [katy perry] (18)
18. right round [flo rida] (24)
17. ain't i [yung l.a./young dro/t.i.] (21)
16. sober [pink] (15)
15. beautiful [akon/colby o'donis/kardinal offishall] (16)
14. you found me [the fray] (8) {Pk:5}
13. just dance [lady gaga/colby o'donis] (13)* {Pk:1(3wks)}
12. mad [ne-yo] (14)
11. i hate this part [the pussycat dolls] (7) {Pk:6}
10. love story [taylor swift] (9) {Pk:9}
09. diva [beyonce] (5) {Pk:4}
08. kiss me thru the phone [soulja boy tell 'em/sammie] (12) {Pk:8}
07. poker face [lady gaga] (11) {Pk:7}
06. heartless [kanye west] (4)* {Pk:1(2wks)}
05. dead and gone [t.i./justin timberlake] (10) {Pk:5}
04. rockin' that thang [the-dream] (6) {Pk:4}
03. turnin me on [keri hilson/lil wayne] (2) {Pk:2}
02. gives you hell [the all-american rejects] (3) {Pk:2}
01. blame it [jamie foxx/t-pain] (1) {Pk:1(4wks)}





NB:
* - Former NUMBER 1 'jam'
~ - Nominee for 'jam' of the year(2008)
(#) - Previous Week
{Pk:#) - Peak Position (shown for top 10 peakers only)


*If you do not want to see all the videos just hover the mouse near the bottom of the screen and choose the videos you want to watch from the pop-up list.

*To view the charts in FULLSCREEN mode, click the "FULL" on the chart screen OR go here: http://web.splashcast.net/fs/?embed_url=/so/2/c/HPFA3505KC/s/HZGP3565WF/sc/1016508/fs/



Shoutouts to the Jamaican massive and the Campion College men's basketball and girl's hockey 2007-2008 teams.


Producer: Xavier Thompson a.k.a. DJ DIphoeniX

"DJ DIphoeniX man, get yo' shit right!"


View the channel here:

http://web.splashcast.net/full_screen/?channel_code=HPFA3505KC



NOMINEES FOR TOP JAMZ OF THE YEAR (no particular order):
live your life [t.i.]
single ladies (put a ring on it) [beyonce]


THIS SHOW IS BROUGHT TO YOU COURTESY OF:
SPLASHCAST (web.splashcast.net) & YOUTUBE (youtube.com)

Mad A Yaad Entertainment™ (M.A.Y.E.™)


MP3CHARTS:

Girlz {Radio Version} (Ft. Vegas, Chico, Kiprich, Hawkeye & Mr. Lex)
Dj Diphoenix & Dj Dimitri - USA
http://boxstr.com/files/2228076_9hnh4/02%20-%20DJ%20DIphoeniX%20%26%20DJ%20Dimitri%20-%20Girlz%20%7BRadio%20Version%7D%20%28Ft.%20Mr.%20Lex%2C%20Vegas%2C%20Chico%2C%20Hawkeye%20%26%20Kiprich%29.mp3
http://www.youtube.com/watch?v=E5x5ZEDVWw8
[youtube=http://www.youtube.com/watch?v=E5x5ZEDVWw8]


Ms. Body {Tha THICKness} [Tha Ladies ('Y U Wanna' & 'B. Girls' Mix)]
DJ DIphoeniX & ZJ Ice (Ft. T.I., Munga Honorebel & Aidonia)
Diphoenix, T.I., Munga Honorebel, Sean Kingston, Cham & Beenie Man - USA
http://boxstr.com/files/2228016_is1gw/DIphoeniX%20-%20Tha%20Ladies%20%28Ft.%20T.I.%2C%20Munga%20Honorebel%2C%20Sean%20Kingston%2C%20Cham%20%26%20%20Beenie%20Man%29.mp3
[youtube=http://www.youtube.com/watch?v=5XJhPY3ik-k]
[youtube=http://www.youtube.com/watch?v=CZUqqdcjsh4]
[youtube=http://www.youtube.com/watch?v=cES1u3lpVd0]

One Woman's Man (2008)
Shonie Featuring Diphoenix - USA
http://diphoenix.fileave.com/ShoniefeaturingDIphoeniX-OneWomansMan(2008).mp3


Meeting In My Bedroom
Silk & Diphoenix - USA
http://diphoenix.fileave.com/DIphoeniXSilk-MeetingInMyBedroom.mp3


Filthy Rich (Meking Money)
Serani & Konshens Featuring Diphoenix - Jamaica
http://diphoenix.fileave.com/07-KonshensSerani-MekinMoney(Ft.DIphoeniX).mp3

X-Girlfriend
Romain Virgo & Diphoenix - Jamaica
http://diphoenix.fileave.com/RomainVirgoDIphoeniX-XGirlfriend.mp3
___________________________________________________________________
TO VIEW THE TOP 50 JAMZ OF 2008 go here:
http://diphoenix.wordpress.com/2009/01/01/dj-diphoenixs-top-50-jamz-of-the-year-the-hottest-songs-on-urban-pop-radio-for-2008-january-1-2009/


GREAT PLAYLISTS ON YOUTUBE (reggaefusion876):

Reggaefusion (Reggae fusion)
http://www.youtube.com/view_play_list?p=CDC417533B682A5D

Old Skool R&B/HIP HOP Joints
http://www.youtube.com/view_play_list?p=433097077AA82867

Classicz from early 2000s
http://www.youtube.com/view_play_list?p=93DA43830CFAEBE8

Pop-Rock.Soft Rock hits from the Mid (& early) 90s
http://www.youtube.com/view_play_list?p=2876A97CA4C59A72

Hitz from the "POP ERA" (1997-2002)
http://www.youtube.com/view_play_list?p=472878F8CE95113C

F*** songs
http://www.youtube.com/view_play_list?p=70A7E2602FEAC25E

ONE Hit Wonders (Late 90s to Early 00s)
http://www.youtube.com/view_play_list?p=199A1EF15A937BEF
___________________________________________________________________
-----------------------------------------------------------------------------
Soulja Boy Climbs Hot 100
March 05, 2009 11:50 AM ET
Soulja Boy logs another leap on the Billboard Hot 100 this week with "Kiss Me Thru The Phone," which jumps from No. 9 to No. 4 and earns the week's biggest airplay gainer title.

"Kiss Me Thru the Phone" was last week's greatest digital gainer, but this week that honor goes to "Jai Ho! (You Are My Destiny)," the Pussycat Dolls' re-mix of A.R. Rahman's Oscar-winning song from the movie "Slumdog Millionaire." The track flies up to No. 15 on the chart, from the No. 100 position last week.

Combined with the original soundtrack version, downloads for "Jai Ho!" were up nearly 500%, totaling about 103,000 for the soundtrack version and 27,000 for the Dolls' version.

"Kiss Me Thru the Phone" featuring Sammie comes in on the Hot 100 after Flo Rida feat. Ke$ha's "Right Round," which is spending its fifth week at No. 1; T.I. feat. Justin Timberlake's "Dead and Gone," which remains at No. 2; and Lady GaGa's "Poker Face," up three spots to No. 3.

Rounding out the top 10 are the All-American Rejects with "Gives You Hell," a song that slips from No. 4 to No. 5 on the Hot 100 despite going No. 1 on the Mainstream Top 40 radio airplay chart this week; Kanye West's "Heartless," which drops three spots to No. 6; Lady GaGa's "Just Dance," feat. Colby O'Donis, holding at No. 7; Eminem, Dr. Dre and 50 Cent's "Crack a Bottle," which falls to No. 8; Taylor Swift's "Love Story" at No. 9 and Kelly Clarkson's "My Life Would Suck Without You," in its second consecutive week at No. 10.
The hot shot debut on the chart this week goes to "American Idol" alum Brooke White, whose self-released "Hold Up My Heart" comes in at No. 47.

Among many new songs on the Hot 100 this week are another Flo Rida track, "Shone," featuring Pleasure P, at No. 57; the Jonas Brothers' "Love Is On Its Way," at No. 84; and Jennifer Hudson's "If This Isn't Love," at No. 92.

Another song by Rahman, the Oscar-nominated "O…Saya" featuring M.I.A., enters the Hot 100 at No. 93 thanks to 25,000 downloads for the week.

On the Modern Rock airplay chart, Depeche Mode's new single "Wrong" debuts at No. 27, giving the veteran band its 17th entry on the tally. The single is the lead track from the act's forthcoming "Sounds of the Universe" album, due April 21.

There's plenty of cover action on the Modern Rock radio airplay chart this week. Framing Hanley's take on Lil Wayne's "Lollipop" slips to No. 22 on the tally in its 19th chart week, while My Chemical Romance's cover of Bob Dylan's "Desolation Row" (from the "Watchmen" soundtrack) moves up to No. 23 in its fifth week on the list.

Elsewhere on the Modern Rock chart, Seether arrives at No. 39 with its remake of Wham! featuring George Michael's "Careless Whisper."

On the Hot Country Songs chart, Keith Urban notches his 10th No. 1 single as "Sweet Thing" rises to the top this week. It's the first single from Urban's new studio set, "Defying Gravity," which drops March 31.

Elsewhere on Hot Country Songs, Miley Cyrus' "The Climb," the first single from the soundtrack to her big-screen "Hannah Montana" movie, debuts at No. 47.
http://www.billboard.com/bbcom/news/soulja-boy-climbs-hot-100-1003948235.story

-----------------------------------------------------------------------------
JAMAICA'S WEEKLY MUSIC COUNTDOWN CHARTS
by Richie B - host of "HOT MIX" on HOT 102 FM - JAMAICA
March 6, 2009

Radio: Weekly Countdown with Richie B Fridays 4:15pm to 5:00pm on Hot
102 FM
Print: Published weekly in X-News
TV: The Top 10 is presented on TVJ's Entertainment Report (ER) -
Fridays at 8:00pm
www.myspace.com/richiebthepartymaster

Check out the EME AWARDS winners and photos now at www.emeawards.com &
www.myspace.com/emeawards

TOP 20 DANCEHALL SINGLES

TW LW WOC TITLE/ARTISTE/LABEL

01 1 11 Time To Shine-Laden-Big Ship(2wks@#1) NM
02 2 9 Romping Shop-Vybz Kartel feat Spice-Adidjaheim Records/
NotNice(2wks@#1) NM
03 4 22 Ghetto Prayer - Shane-O-Jam II U-1
04 5 6 Last Man Standing-Vybz Kartel - U-1
05 6 9 I'm So Blessed - Mavado - Big Ship U-1
06 3 11 Dip Again- Elephant Man feat. Ding Dong - Big Ship(pp#3) D-3
07 10 6 Ben Ova - RDX- U-3
08 8 12 Flying Dagger (100 Stab)- Idonia- Equinoxx (pp#6) NM
09 12 6 This Means Money - Konshens - Head Concussion U-3
10 11 5 Head Caan Hot So- Prodigal Son-Main Street Records U-1
11 13 5 Get Wild-Vybz Kartel- Not Nice U-2
12 7 25 Burnin, Burnin- Miss Triniti feat. Beenie Man-Unseen Lab
(2wks@#1) D-5
13 15 5 Bubble-Charly Blacks-Fresh Ear U-2
14 9 24 Move-KK Alese- Ruby Sarah Music (pp#7) D-5
15 14 28 Rolling Deep-Flippa Mafia-T J Records (pp#5) D-1
16 16 20 Sweep-Elephant Man-Scatta Productions/Kings of Kings
(3wks@#1) NM
17 - New Stamma-Busy Signal- Big Ship
18 17 16 Million By A Mawning-Vybz Kartel-Don Corleon (3wks@#1 D-1
19 - New Nuh Daggera -Spice-Equinoxx
20 18 18 Yuh Know Fi Wine-Beenie Man- 357 Records (pp#7) D-2

TOP 20 REGGAE SINGLES

TW LW WOC TITLE/ARTISTE/LABEL

01 1 19 Calm Down Yuh Nerves-Bescenta-Uplifting Music Int'l
(2wks@#1) NM
02 2 15 Jah Jah See Dem A Come-Sugar Roy/Conrad Crystal & Gyptian -
Fireball NM
03 4 12 Can't Sleep-Romaine Virgo-Penthouse Records U-1
04 3 18 I Love You Anyway-Barbee-It's Not A Game Records (2wks@#1)
D-1
05 6 18 My Jamaican Girl-Prince Pankhi-Otis Riddim Records (pp#5)
U-1
06 7 11 Missing You Right Now-Daville-Fashowzy U-1
07 9 11 You've Lost That Loving Feeling-Noddy Virtue/Jodi-Ann
Pantry-Reflection U-2
08 11 6 Bad Man Don't Cry-Shaggy-Big Yard Music U-3
09 8 13 Good Morning Beautiful-Mark Ice-Big Lawd Records(pp#8) D-1
10 10 8 You're My Inspiration -LUST- Born Music NM
11 12 8 Another Bill Again-Tony Rebel-Penthouse U-1
12 13 6 Start Anew-Tarrus Riley-Juke Boxx U-1
13 16 6 Jah Jah Blessing -Etana feat Alborosie-Forward Records U-3
14 5 24 Nothing Change (Love Reigns)- Bugle/Tarrus Riley -Sons of
Spoon Music(2wks@#1) D-9
15 19 3 A Thousand Miles Away-Ras Penco-Uprize Music U-4
16 17 4 Cassava - Andrew Mistiq aka P. Zed -Inspire U-1
17 18 4 Save The Juvenile-Ruffian-Get Up Yute Records U-1
18 15 7 Music - Konshens - Tads Int'l (pp#15) D-3
19 - New Good Life-Chuckle Berry-Taxi
20 - New Call On Me-Jah Cure-SOBE/Dangerzone

TOP 10 ALBUMS/CD CHART

TW LW WOC TITLE/ARTISTE/LABEL

01 2 8 Reggae Jammin Vol. 1-Various Artistes- Tads Record Int'l
(1wk@#1)U-1
02 1 18 I Can Feel Your Pain- Gyptian-VP Records/Cannon (2wks@#1)
D-1
03 4 8 Stronger - Fantan Mojah-Greensleeves U-1
04 3 13 Yes We Can-Cocoa Tea - Roaring Lion/Tads Int'l (3wks@1) D-1
05 5 6 Waiting - Cecile - Dangerzone NM
06 6 15 Greatest Reggae One Drop Anthems-Various Artistes-
Greensleeves NM
07 8 4 Pull Up Selector-Jimmy Riley-Taxi U-1
08 9 16 A Moment In Time -Beres Hammond -VP Records (4wks@#1) U-1
09 7 19 Riddim Ruler- Drop It - Various Artistes-No Doubt Records/
Tads Int'l (2wks@#1) D-2
10 10 20 Loaded-Busy Signal-VP Records (1wk@#1) NM

_____________________NOTES_____________________________________

Numbers in bracket indicate the number of weeks at the No. 1 Spot.
Key: U - Upward, D - Down, NM - Non-Mover
TW - This Week, LW - Last Week, WC Weeks on Chart, PP in bracket -
Peak Position
Sources: Sound Systems, Record Shops, Night Clubs & Radio Play
http://groups.google.com/group/rec.music.reggae/browse_thread/thread/508537b40b6258e3

-----------------------------------------------------------------------------
DJ DIphoeniX's iCANDY [EYEcandy]
Beautiful Sapphira - sexy and intelligent
I'm a graduate of Florida State University (B.S. in Interdisciplinary Social Science), a Florida Licensed Realtor, Notary Public, and Model. I'm also interested in Private Investigation and learning Makeup Artistry + I'm GREAT at organizing work and events, so I wouldn't mind one day owning an event planning business (so much to do, so little time) :o) After working full-time for 12 years (1994-2006) in various office positions (Office Manager, Executive Assistant, etc.), I finally resigned from full-time Office employment as of 9/8/06 and it's one of the best decisions I've ever made!!! Although I'm still busy, I LOVE the freedom from being "tied to a desk" 8 hours a day.
I AM MANY different things, SO DON'T TRY TO PUT ME IN A BOX BECAUSE I JUST WON'T FIT
I've lived in S. FL (Pompano Beach) since 2003 (before moving here, I lived in Tallahassee, FL since 1989). I was born in Shreveport, LA and my hometown is Homer, LA, but we moved to a few different cities, including New Orleans, before moving to Tallahassee, FL in 1989. So I was born and raised in the South, but a lot of people seem to be surprised when they find that out LOL
Personality: warm, friendly, DOWN-TO-EARTH, play well with others, supportive of others' accomplishments (NOT the jealous/bitchy/catty type), can't stand conflict/arguments, have no time for toxic people, great sense of humour (not big on lots of sarcasm and goofiness though), like to enjoy and live life to the fullest, ALWAYS seeking knowledge and ways to improve...
http://www.outaroad.com/2007/07/beautiful_sapphira_sexy_and_in.html#more

A Little Taste Of Barbee's Day On The Beach feature
http://www.outaroad.com/2009/01/a_little_taste_of_barbees_day.html#more

Sakina is not only sexy - She's very outspoken
Myspace-Sexygirl of The Week
Well just a little about Sakina I'm a cool down to earth person not shallow, conceited, self centred, sneaking, hype nor am I anti-social or a b*tch which people love to assume, if people would only get to know me before they assume they would realise I'm a really shy & silly person who loves to have fun and socialize - and yes you can approach me I don't bite but I really hate to be annoyed and would love if people don't make it their point of duty to try and know my business. I mean I'm not all that interesting.
Personally I think it's pathetic that people make my life the center of their world I mean I'm flattered and all but really get your own life and stay the hell out of mine.people always complain that I don't smile & I always look serious which is true but thats just my look I cant help it really it doesn't mean anything.Well thats enough of me lata.
For more click on her myspace.com/sassysaki
http://www.outaroad.com/2007/07/sakina_is_not_only_sexy_shes_v.html#more
lisa rinna
http://www.jamaica-star.com/poster_girl/pg_199.html
WINSTON STILL PHOTOS
Bad to di Bone - Official 2nd Single
Current mood:
energetic
Category:
Music
Hey everyone...been a long time since we updated our blogs...please forgive us...we've been on the road touring for most of 2009 and in our downtime we try our best to answer all the messages that you guys have sent!
Thank you so much for the overwhelming support...definitely our inspiration to keep pushing forward.
We're in Finland right now...oh is it ever FREEZING! Time like this make us really appreciate the good old Jamaican heat...but our fans here are amazing...their passion makes us forget about the frigid temperatures...we have a few videos and pics that we'll try and upload this weekend from the last 2 months!
So Bad to di Bone is our official 2nd single...we've been getting great feedback on the video clips we've posted as well as the song spins on myspace are off the chain.
Below is a copy of the cover for the single...should be hitting i-tunes and all those places shortly...we're on the road promoting the album and we're looking forward to meeting ALL of you!
Thanks again for being such great fans! Subscribe to our Youtube Channel (
http://www.youtube.com/officialbrickandlace)
Lots of goodies on the way...STAY TUNED!
Love you guys...Ny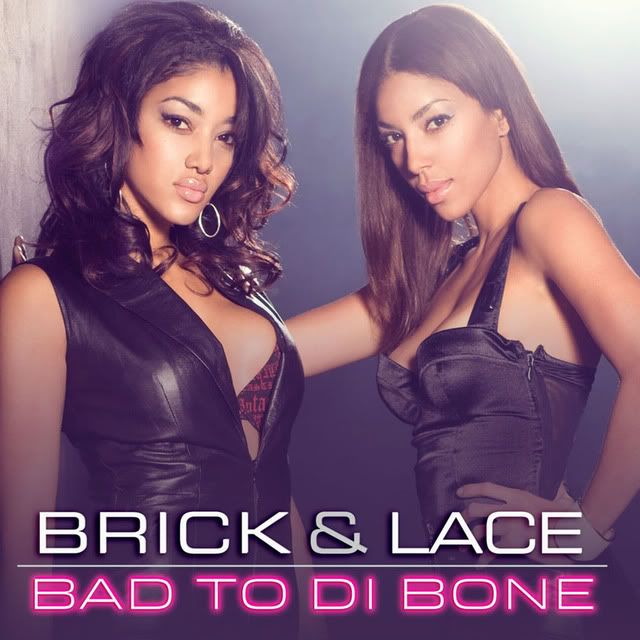 Eva Angelina looking delicious
..........
Labels: 20, 2009, 200s, billboard, chart, countdown, diphoenix, dj, jam, mp3, music, song, splashcast, top, top songs of the year, twenty, video, week, youtube